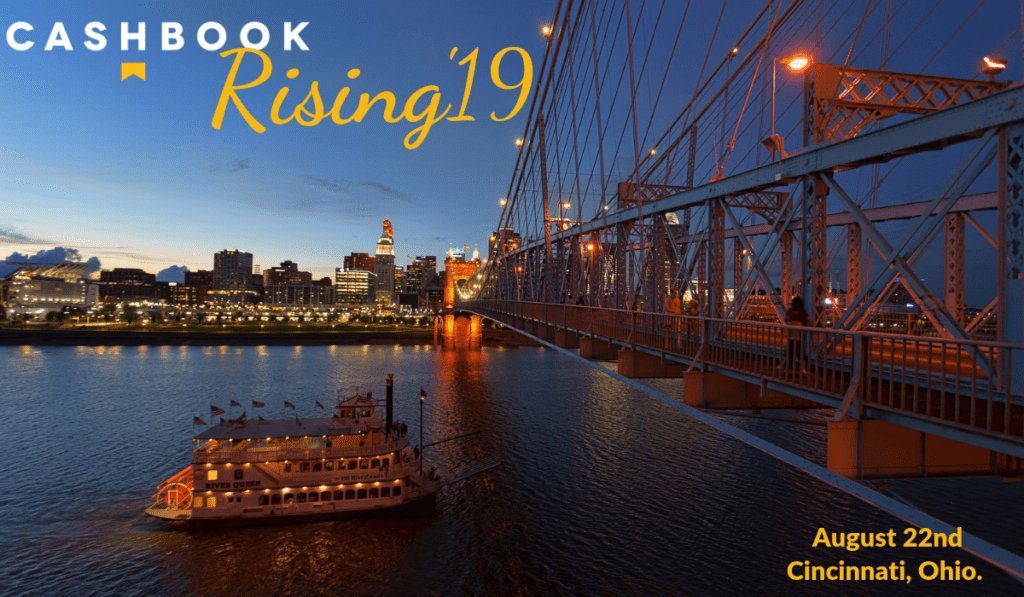 Cashbook Rising 2019 – Our user and partner conference
Cashbook are delighted to invite all of our users and partners to join us for Cashbook Rising 2019 in Cincinnati, Ohio on Thursday 22nd August. This is our annual user and partner conference in North America. After the great success last year in Washington D.C., we have decided to hold our 2019 event in the Mid-West. The event itself will be hosted at the HQ of our longstanding customer, Formica Corporation. Formica have been a customer of Cashbook for over 10 years now, and use our cash automation software throughout the US, Europe and Asia. Cashbook Rising event location can be viewed here.
Why should you attend Cashbook Rising 2019?
Cashbook Rising 2019 will be a full action-packed day of learning, sharing and networking. This event will see a gathering of Cashbook customers and partners from multiple industries across the US. At Cashbook Rising attendees will learn more about the products they own. They will discover new services available to increase productivity, and also meet the team of people behind the software. Attendees can benefit from technical presentations; customer case study presentations; top 10 feature sessions; specific module walkthroughs; Q&A open-floor sessions, in addition to great networking opportunities with other Cashbook users and our expert partners. It promises to be a fantastic event and one not to miss!
Riverboat Cruise on the Ohio River
After Cashbook Rising ends, you can relax and enjoy a very special evening Riverboat cruise on the Ohio river with food and refreshments. Cashbook have reserved a private deck on the Belle of Cincinnati for all our attendees. Along with dinner and refreshments, you will enjoy live entertainment on-board, with traditional Irish music to deliver the soundtrack to the beautiful night-time views. We expect all hands on deck resulting in some plain sailing ahead.
Stay at 21c Museum Hotel
All Cashbook Rising 2019 attendees will be booked into the unique 21c Museum Hotel in the heart of Cincinnati. Cashbook have availed of a great opportunity to reserve this unique and beautiful 4-star boutique hotel for our attendees. The 21c Museum Hotel is a multi-venue contemporary art museum, an award-winning 156-room boutique hotel and home of Metropole restaurant.
Want to attend?
If you would like to attend Cashbook Rising, if you have any questions about the agenda or registration please contact Michael Twomey by: email: michael.twomey@cashbook.com telephone: 00353 61 338 400.