Cashbook are a global company with customers in over 25 countries, and all major continents that use our Cash Application Automation products. Cashbook already have a presence in Africa with customers in both Egypt and South Africa. The latest country in Africa to be added to that growing list is Zambia. Margreet Peverelli, Cashbook Global Account Manager, recently embarked on an exciting week-long trip to Africa that saw her visit both new and existing customers of Cashbook in South Africa and Zambia.
South Africa
Margreet's first stop in South Africa was to Essentra Components S.A. which are based in Midrand, Johannesburg. Essentra Components S.A. offer one of the widest ranges of plastic and metal components and finishing products in Africa.
They have over 4,000 products and more than 28,000 parts in their catalogue. Essentra Components are a long-serving customer of Cashbook that have operations throughout the world. A big thank you to Essentra and also to Tyrone Salgado for the hospitality, and for providing Cashbook with a real South African "Braai" (BBQ). It was absolutely delicious!
Zambia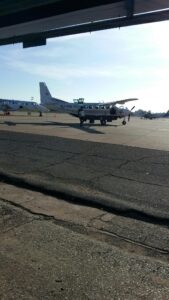 After a great visit to Essentra S.A. Margreet's next stop in Africa was to meet the two new customers of Cashbook – Epiroc and Atlas Copco in Zambia. As you can see from the picture on the right, Margreet's planes were getting smaller and smaller!
In Zambia, Cashbook recently implemented our Cash Application Automation Software for both Epiroc and Atlas Copco, these are sister companies who are involved in the mining industry. Epiroc are based in Chingola and Atlas Copco are based in Kitwe. Although the two companies are part of the same organization, they split their business by products and services.
Epiroc is a leading productivity partner for the mining, infrastructure and natural resources industries. With cutting-edge technology, Epiroc develops and produces innovative drill rigs, rock excavation and construction equipment, and provides world-class service and consumables. Atlas Copco markets, sells and services equipment, consumables and parts that are manufactured by the product company.
Margreet spent the remainder of her trip at both companies, meeting and training the employees (pictured below) on how to use Cashbook. Both Epiroc and Atlas Copco went live on Cashbook during Margreet's visit, another successful project in Africa. This was the very first time that Cashbook visited Zambia and it was an amazing experience. Zambia is most beautiful and also a very friendly country. Cashbook would like to thank both Epiroc and Atlas Copco for their great hospitality and for providing such a warm welcome to Margreet.
Summary
Overall, this was a very enjoyable and successful trip to Africa for Cashbook and Margreet. Cashbook are looking forward to expanding our business even further in Africa, and to building long-term relationships with our new customers in Zambia. Margreet Peverelli said of her trip:
"It was an amazing experience. It was great to meet long-serving customers such as Essentra, they have been with Cashbook for many years now. To get our new customers Epiroc and Atlas Copco live on the Cashbook software was a great success, we look forward to supporting them with their financial processes in the future. The people that we met from each company, the people of South Africa and Zambia, are all very friendly and welcoming. I am really looking forward to my next trip to Africa" – Margreet Peverelli, Global Account Manager, Cashbook.
If you are based in Africa and would like to find out more about our Cash Application Automation products, please email Margreet Peverelli for further information.