What is BAI2?
The BAI2 file format was developed by the Bank Administration Institute (BAI) as a cash management reporting standard for the exchange of data. Within the format are three digit type codes that are either Status, Summary or Detail data. Types of bank codes relevant for Cashbook include:
01 File Header marks the beginning of a file. It identifies the sender and receiver of the transmission and describes the structure of the file.
02 Group Header identifies a group of accounts that are from the same originator and includes the same as-of-date and as-of-time.
03 Account Identifier and Summary Status identifies the account number and reports activity summary and account status information.
16 Transaction Detail is used for transmission of detailed transaction information.
88 Continuation is used when data exceeds the maximum physical record length, or whenever it is desirable to continue data into an additional record.
98 Group Trailer provides group control totals.
99 File Trailer provides file control totals.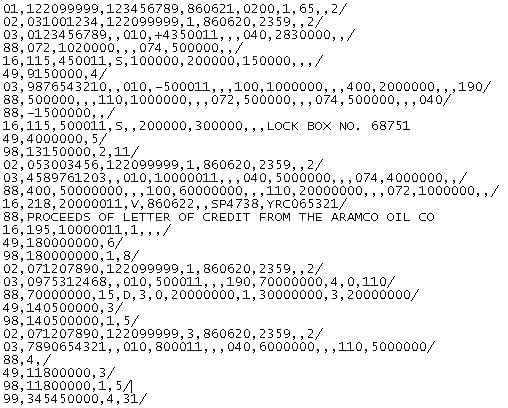 BAI2 Features
Can be adapted for any bank file or format in the U.S. and Canada.
Standard matching algorithms available include combinations of the following reference data: invoice amount, invoice number, purchase order reference, sales order reference, discount amount and due date.
Algorithms can be modified or enhanced to include other specific reference fields.
Deduction handling and auto-coding supplied.
Automatic G/L write-offs based upon customer determined tolerance amounts or percentages.
Utilise MICR numbers for auto-matching customer numbers.
Each Lockbox has its own Cashbook journal, meaning multiple Lockboxes can be worked on simultaneously.
Splitting of Lockbox's is possible by bank account, company, collector or number of journal lines.
Benefits
Can reduce headcount and allow redeployment of resources to other, more value added,
Reduces A/R processing time of Bank Lockbox files by an average of 50% to 95%.
Allows companies to increase receipt volume without adding additional resources.
Automated processing of data reduces likelihood of manual entry errors.
Clean, efficient processing of Bank Lockbox data reduces overall reporting time needed at month, quarter-end and year-end periods.
Excellent tool for ensuring cash application is handled in a consistent, controlled manner.