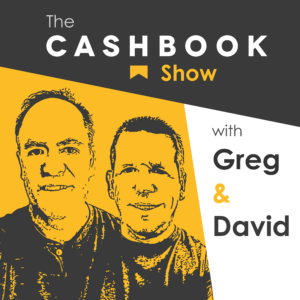 Cashbook are launching a new fintech podcast which will be focused on a wide variety of fintech related topics. This podcast will be educational in nature and seek to break down the barriers to specific financial topics and processes that may seem complex in the world of fintech. Cashbook will be exploring topics related to our core knowledge and experience of cash automation but also topics from other areas which are popular within the fintech industry.
The new podcast will be presented by Greg Coulter, CEO, and David Rushe, Global Sales Manager, from Cashbook. The podcast is titled: "The Cashbook Show with Greg & David", it will be released bi-monthly. More information on the podcast presenters can be found below.
The Fintech Podcast Presenters
Greg Coulter is the CEO of Cashbook, with more than 20 years of experience in Cash Management automation processes. He is responsible for the implementation of Cash Management software solutions in over 25 countries. Greg holds a 1st Class Honours degree in Economics and Finance from the University of Otago in New Zealand. He is also a CIMA qualified accountant, and this year is celebrating his 19th year as the CEO of Cashbook.
David Rushe is the Global Sales Manager of Cashbook and has almost a decade of experience in cash automation processes and software solutions. David holds a 1st Class Honours Business degree in Accounting & Finance from the Limerick Institute of Technology. He has travelled the world with Cashbook and keeps up to date with all new developments around cash automation in the financial industry. David hails from Co. Clare in Ireland and this year is celebrating his 9th year working at Cashbook.
If this fintech podcast is something that interests you, the very first episode can be found here. We want to make an interactive podcast where listeners can send in questions ahead of time and propose any fintech topics they would like discussed or to discover more on.
Cashbook will have special guests from the world of fintech as the series develops over the coming months. We hope you will listen in to "The Cashbook Show with Greg & David" and we will strive to keep it as informative, light-hearted and entertaining as possible. If you require more information on Cashbook then please visit our website.