Cashbook are very excited to be exhibiting at Inforum 2018 in Washington D.C. on Sept 24-27. This will be our eight successive year exhibiting and also our eight year as a Global Infor partner. Inforum is our flagship event each year, and we are really looking forward to the 2018 event. It really is a great environment to meet our existing customers, and also to meet new people who have a need for Cash Application automation. We have also developed a new game for our booth this year, where challengers will have to beat the clock to complete a bank reconciliation. All successful contestants will be entered into the draw to win different types of Amazon Echo's. I also hear that Lenny Kravitz and Shaquille O'Neal are stopping by Inforum 2018, so it promises to be a lot of fun!
At Cashbook, we help organizations achieve spectacular levels of automation in Cash Application, Accounts Payable and Bank Reconciliation. We also have highly useful Deductions, Lockbox, OCR, and Portal automation tools. We have previously integrated our cash application software for numerous XA/MAPICS, BPCS/LX, and Lawson users. There is a seamless integration between our Cash Application solutions and Infor products. Cashbook allows you to reduce your DSO and to re-allocate your resources to higher value activities, such as collections. Our modules have increased functionality in 2018, and we are looking forward to showcasing our new developments.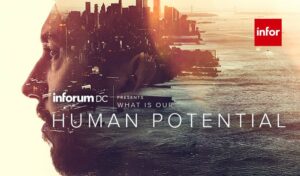 Inforum 2018 will focus on the theme of Human Potential and explore the limitless possibility of human achievement. Artificial intelligence (A.I.) is changing the way that humans think, act, feel, work, and play by allowing a person or group to do much more with the time that we have. In addition, A.I. is helping us make quicker, more accurate decisions to greatly improve our efficiency and productivity. At Cashbook we use A.I. in our cash application automation software to automate complex financial processes for our clients.
Come and meet us at stand #938 and get a quick product demo. See first-hand how we can automate your Cash Application, Accounts Payable, Bank Reconciliation, Deductions, Lockbox, and Portals processes. Cashbook reduces the number of people that are required to apply cash in your organization. These people can be allocated to other higher value functions within your company. See how the world's most intelligent ERP and Bank integration platform, with exceptional matching capabilities, massively reduces manual workload. Trusted, tailored software from cashflow specialists. See you in D.C.!