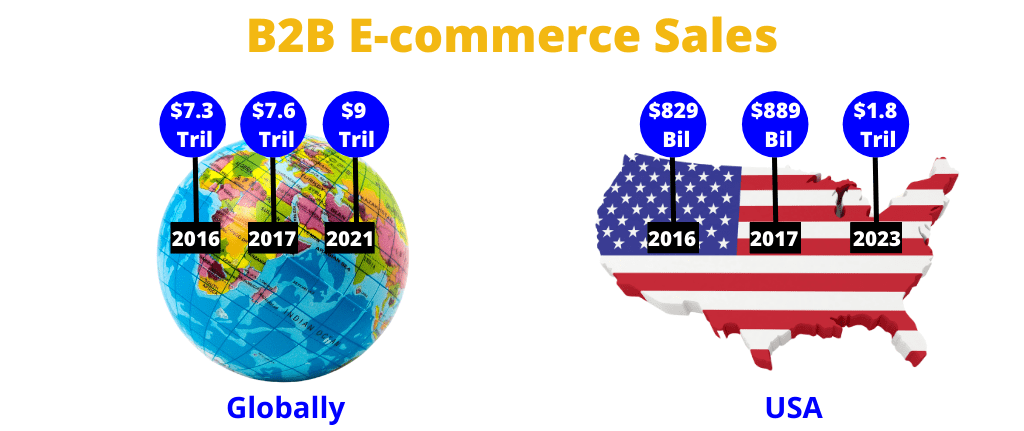 Rise of the B2B E-commerce sector.
Over the last few years, business-to-business (B2B) e-commerce has been changing rapidly. This was greatly accelerated last year due to the pandemic. Many companies were forced to do business online, and had to adapt their business model or suffer huge profit losses. Selling through their own websites was a fresh challenge for many. Selling via 3rd party online retailers was also essential to develop new sales opportunities and hold their business.
Online marketplaces such as Amazon, eBay, and Alibaba have conquered the retail B2C industry. B2B have been quickly moving to these online retailers in a momentous change. Globally in 2017, B2B e-commerce transactions totaled $7.66 trillion, and are projected to hit $9 trillion by end of 2021. In the United States alone, B2B e-comm transactions are expected to reach $1.8 trillion by 2023. This figure will account for an estimated 17% of all B2B sales in the US. Amazon Business third party sellers have increased in volume from 30k in 2016 to over 200k today. Amazon stated "third-party B2B sellers on Amazon Business make up 50% of the $10 billion in global annualized sales". The transformation in audience type is helping to propel this change. (Sources: Forrester and Amazon)
The B2B audience is changing
As we can see in the graph below, 'Millennials' (born between 1981 and 1996) have overtaken 'Gen X' and 'Baby Boomers' to dominate the labor force in North America. Millennials have grown up with technology and expect to be able to conduct business online. B2B buyer habits have changed and Millennials are helping to drive and sustain this change. Recent research by Forrester has found that 73% of millennials are involved in the B2B buying process in the US, and companies have to adapt their model and messaging to succeed. Expectations are also raised when it comes to prompt delivery, flexible payment types and the potential return of items, more on this later. There are now lots of challenges for companies that sell their products online.
Issues of dealing in B2B E-commerce
There are many issues when dealing with e-commerce such as: developing your web infrastructure to handle online sales; finding the right market; getting quality website traffic and dealing with intense competition. All of this while providing a good customer experience, adhering to strict cybersecurity regulations, achieving order fulfilment and having great returns and refund policies.
All of the above are significant issues for companies dealing in the e-commerce sector today. If you are dealing directly with B2B consumers through your own website, or dealing with customers via online retail marketplaces, such as Amazon. Then returns of your own products can be very costly for selling companies. Returns are now a huge part of e-commerce these days.
Product returns – big costs for business
Consumers return items for a multitude of reasons, the most common being – 'broken/damaged items', 'items not matching description', 'late delivery', 'do not like items'. Companies need to have an excellent returns/refund process, otherwise consumers may not purchase again from them in the future. Returns can be crippling for businesses if done via online marketplaces. As in many instances, the seller can be forced to shoulder the total cost of the goods by the third-party online marketplace.
Many B2B companies run into similar issues with returns or 'deductions' as they are commonly known. If you deliver a large order to a third-party retailer and 5% of the total delivery is classed as 'broken' by them upon receipt – that percentage of the delivery becomes a 'deduction' and the value of those damaged items is deducted from what you are owed. If you have a lot of big box retailers or outlets that you are suppling to, then deductions become a very real issue for your business.
For some companies, deduction costs can run into the millions of dollars annually. Imagine losing 5-10% of your business each year to deductions claims. All of these deductions need to be investigated manually and resolved to see if they are legitimate claims. It can be next to impossible for a company to trawl through and investigate all of their monthly deductions. It becomes too time-consuming and they usually don't have enough resources to complete it. This is where software solutions and deductions management automation come into play.
Deductions Management Automation.
Let's say you have revenue of $100 million annually and 5% of that figure is classed as deductions each year. That's $5 million to be taken from the bottom line, a huge amount of money in any business. Companies can usually reclaim a small percentage (2-10%) of the $5 million through a laborious and time-consuming manual deduction's process.
The other option is to automate your deductions management process and reclaim a higher percentage of that $5 million. With deductions management automation the whole process is digitized where deductions can be grouped together, investigated and approved or denied rapidly. This saves huge amounts of time and reclaims a larger portion of lost revenue. Below are some of the key benefits of automating this process.
Automate up to 75% of your Deductions.
Reduce your deduction team resources by 30-50%.
Recover up to 40% of revenue that is usually lost in the deduction process.
Create reason and deduction codes directly from remittance data for any ERP.
Adapt deduction management to any bank file or customer remittance format.
Access customer portals with backing information such as proof of delivery notices.
Route deductions throughout an organization for review & approval.
If you are interested in discussing how Cashbook can automate the Deduction Management process, or other areas within the Cash Application process. Get in touch with our team, by calling us on +353 61 338 400 (International) or 630-352-2228 (North America). Alternatively, you can email info@cashbook.com. We look forward to helping your company realize the benefits of Cash Application automation software.