Automated, defined processes
Move from paper-shuffling to automated, defined processes
Let technology do the work!
A Pan-European solution for those who need an intelligent draft management and automation solution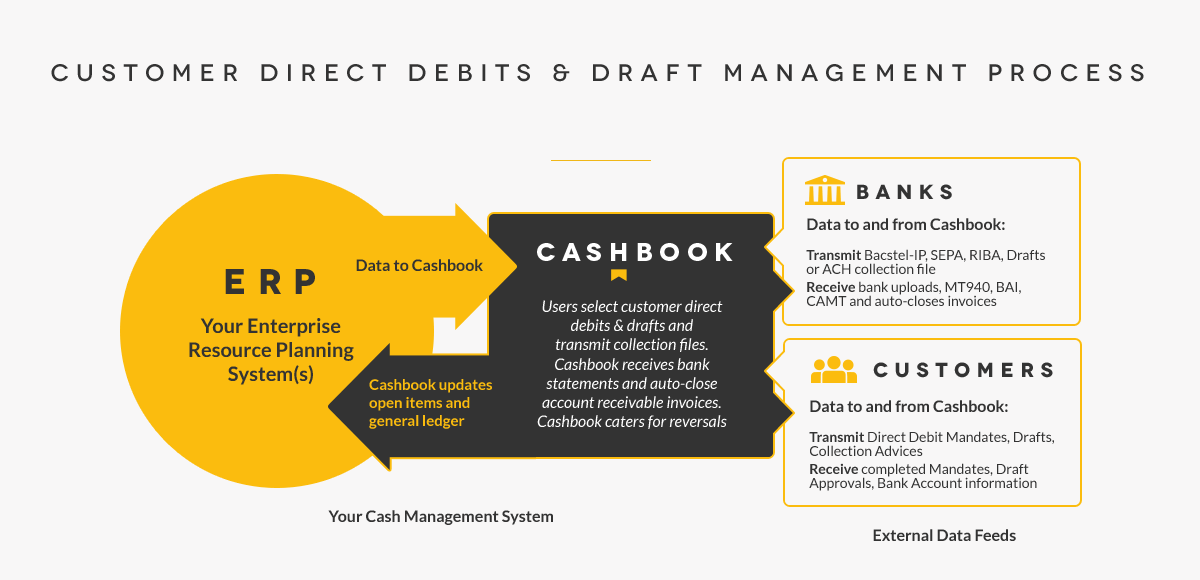 Features of Draft Automation & Management Module
---
Integration
Seamless integration with all major banking providers
Cashbook's Drafts module fully integrates with your ERP system. Creation of drafts is driven directly from the AR data in the ERP. This module can be integrated with any bank accepting AR drafts either manually or electronically. It is ideally suited to European Shared Service Centre operations that need to cater for specific country requirements.
Functionality & Automation
Functionality and automation to reduce manual labour, increase accuracy and speed processing
The Drafts module permits storing of extensive account information by customer including; IBAN, SWIFT codes, email addresses. Recording draft amendments, adjustments and approvals. Formatting of drafts and transmission of data files to any bank. Printing and/or emailing of drafts and receives completed transactions on the bank statement. Drafts can be easily tracked through multiple status levels to maturity. Appropriate accounting entries are made to the ERP system at each status point, including the ability to reverse or dishonour individually drafts, essentially reversing all previously posted accounting entries and subsystem records. Automates the paper-shuffling component of drafts into clearly-defined user steps and accelerates the daily processing times needed for drafts.
Financial Control
Enables tighter management of draft creation and processing
Provides management with visibility of Drafts Outstanding and greater cashflow control. Eliminates keying errors. Meets the specific demands of French and Southern European operations through a central platform. Replaces high-maintenance local country solutions.